The following article was written by Michael Fagin. Fagin is an operational meteorologist providing weather forecasts to clients in the Pacific Northwest and providing custom forecast for groups climbing Mt. Everest and other major peaks. Fagin is also a travel writer with a focus on weather and wine.
In my article on Pacific Northwest weather last May, I noted the Columbia Basin and Willamette Valley had a cool, wet start to the growing season during the spring. The forecast was subsequently for a warm, dry summer. Let's review what happened.
For much of the period of May through early September, Washington and Oregon were dominated by an upper-level ridge of high pressure, which was stronger than historical averages (red and orange colors on the map below). When there is a strong, upper-level ridge of high pressure in place in the summer, the Pacific Northwest has warm and dry conditions.
Looking at temperature and precipitation data, that is what these areas experienced.
Temperature
The map below is for July 2023 and shows temperatures were generally up to three degrees Fahrenheit above normal for the West Coast (light orange colors). This pattern was reflected in the Columbia Basin and Willamette Valley. This above-normal pattern was repeated in August and early September as well.
For mid-June through mid-September, average temperatures were 2 to 4 degrees Fahrenheit above average as the map below shows (dark yellow colors).
Precipitation
The map below for July shows the precipitation percent of average for Washington was only 25% of normal and for Oregon only 5 to 10% of normal (dark brown colors). This dry pattern repeated in August for Willamette Valley. However, parts of the Columbia Basin had rain toward the end of August from the remnants of Hurricane Hilary, and rainfall was above average in August for this area.
Overall, the dry pattern lasted for most of the previous 90 days, with much of the Columbia Basin and Willimalete Valley at 25 to 50% of average precipitation (orange colors shown below).
Comparison to 2022
The warmer temperatures we had this spring and summer were a sharp contrast to 2022. Last year's Growing Degree Days (GDD), a measure of heat accumulation, at the end of August were below average. This year, they are above average. The GDD for the Red Mountain appellation is also above average for this year, and this pattern is also reflected in other areas in the Columbia Basin as well as Willamette Valley (see charts below).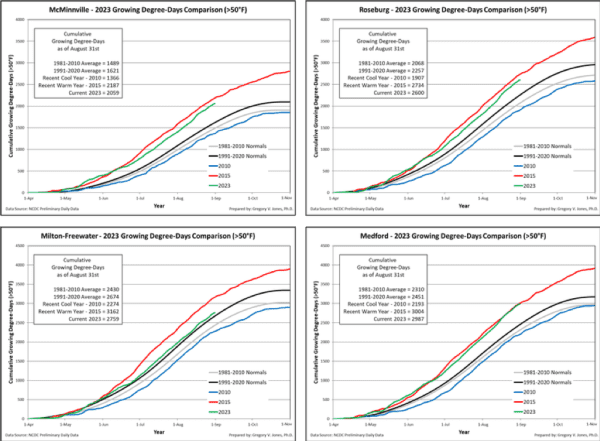 15-day Outlook and Beyond
What will the weather patterns be from now until the harvest season starts to wind down? The forecasts are more for general trends and do not focus on exact days. The forecast, of course, is the most accurate in the shorter term.
7 Day Outlook Friday, September 15th to Thursday, September 21st
Above average temperatures and dry conditions are expected early in this forecast period, as we are under a strong ridge of high pressure. Then starting early next week, the ridge of high pressure slowly weakens, as a trough of low pressure drops down from the northwest. This will result in daytime temperatures cooling to average to perhaps slightly below average by early next week.
Several forecast models suggest chances of light rain next week for the Willamette Valley, perhaps later Monday or Tuesday. Finally, later next week there is a trough of low pressure to our south to bring average temperatures with a very slight chance of showers for the Columbia Basin and the Willamette Valley late next week. The chances of rain will depend on the position of this low pressure.
15-day Outlook, Friday, September 22nd to Thursday, September 28th
The Northwest continues to have changes in weather patterns as fall, cooler patterns start to develop. For this period, we are seeing a broad trough of low pressure over our region. This will generally bring below average temperatures and above average rainfall.
The Climate Prediction Center's updated outlooks reflect the same pattern (see maps below). One model brings in a strong trough of low pressure towards the end of this forecast period to bring some widespread rain. Again, however, it must be noted that forecasts are less accurate as one looks further out.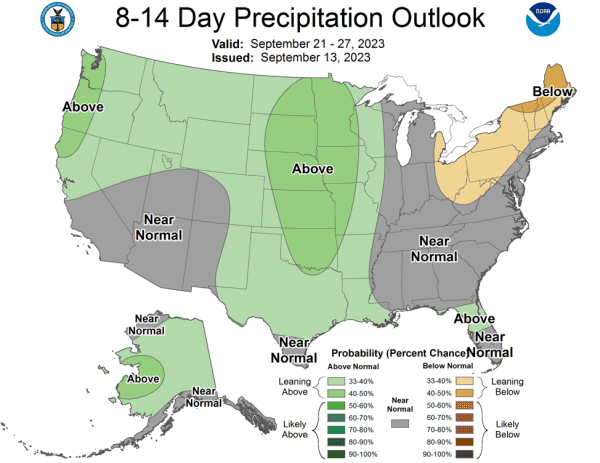 Early October Outlook
For a few early days in October, models bring a trough of low pressure, so cool and wet conditions will briefly prevail. However, that might be short-lived, as a strong upper-level ridge of high pressure builds for some warm and dry conditions in the remainder of early October.
In conclusion, the outlook for the short term is warm and sunny conditions. Then starting next week some cooling and chances of just light rain. Then we start to have more dramatic changes towards the end of September with cool and wet conditions at times. Finally, early October suggests a brief return to warm and sunny conditions.
Next month, we will update on the impacts of El Niño as we move into fall and winter.
NOTE: Northwest Wine Report is now partially subscription-based. Please subscribe to support independent content and reviews on this site. It's the only way that this site can continue.
To receive articles via email, click here.