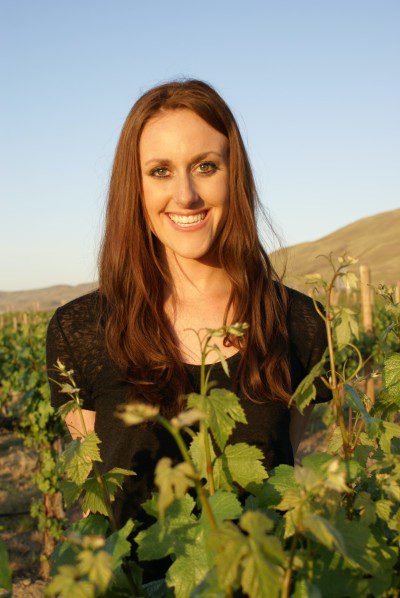 Chateau Ste. Michelle, Washington's largest winery, has named Taylor Butterfield as head white winemaker. Butterfield started the position earlier this year.
"I love white winemaking," Butterfield says. "I have a true passion for it."
Butterfield was born and raised in Yakima, Washington. She subsequently attended Seattle University on a Division I soccer scholarship. Butterfield graduated from the university with a degree in biology.
In her junior year, Butterfield went wine tasting with friends in Yakima Valley, Washington's oldest grapegrowing region. "I totally saw the Yakima Valley in a whole new light," she says.
Butterfield's brother had started attending Washington State University's viticulture and enology program. It inspired her to apply for an internship at Hogue Cellars.
After her internship in 2012, Butterfield was hired on at Hogue as a laboratory technician. Over time, she was promoted to production and quality enologist and eventually winemaker for Hogue's massive white wine program.
After the sale of Hogue by Constellation to E.&J. Gallo in 2019, she remained for a year. Butterfield subsequently accepted a position as a blend supply analyst at Constellation.
"I feel like it really helped me as a wine professional to understand more about the wine business," she says.
In February of this year, after what she describes as her brief "sabbatical" from winemaking, Butterfield was hired by Ste. Michelle. She says she's a white winemaker through and through.
"I like the fast pace of it. A lot of white winemaking happens right at the beginning during harvest, getting the pick date right, making sure you're following the fermentations."
Butterfield also enjoys the challenge of working at a large winery. Ste. Michelle makes more white wine than any other winery in the state by a mile.
"It's very large scale winemaking, which I do love, but we're able to do a lot of the smaller [direct-to-consumer]/wine clubs wines," Butterfield says. "A couple hours ago, I was walking around tasting an 11,000 gallon tank, and then I turned the corner, and there's an oak oval of Pinot Grigio still on its lees. It's the best of both worlds."
Ste. Michelle makes 15 different white wines, but there are 2 varieties Butterfield is particularly fond of: Riesling and Sauvignon Blanc. Overall, she is a champion of the state's wines.
"I'm a firm believer in Washington wine," she says. "We have such great acid here."
Chateau Ste. Michelle moved its white winemaking operations to eastern Washington starting with the 2022 vintage. Production had previously taken place in Woodinville, about 30 minutes outside of Seattle.
The Woodinville team, which was led by head white winemaker David Rosenthal, chose not to make the move east and was subsequently laid off. (Rosenthal now has a consulting service.) In her new position, Butterfield reports to Katie Nelson, who was promoted to vice president of winemaking at the Chateau in 2021.
"It's a great winemaking team here, and I've known most of them for a long time," Butterfield says.
Butterfield, who lives in Prosser, has other connections to the Ste. Michelle winemaking team. Her husband, Tristan, is assistant red winemaker at Ste. Michelle's Canoe Ridge Estate facility in Paterson, Washington.
"We have a well-balanced cellar at home between red and white," she jokes.
In addition to her new role as white winemaker at Chateau Ste. Michelle, Butterfield also serves on the board of The Alliance of Women in Washington Wine. She leads the group's mentorship programs.
Image courtesy of Chateau Ste. Michelle. This article has been updated to correct Katie Nelson's title.
NOTE: Northwest Wine Report is now partially subscription-based. Please subscribe to support independent content and reviews on this site. It's the only way that this site can continue.
To receive articles via email, click here.