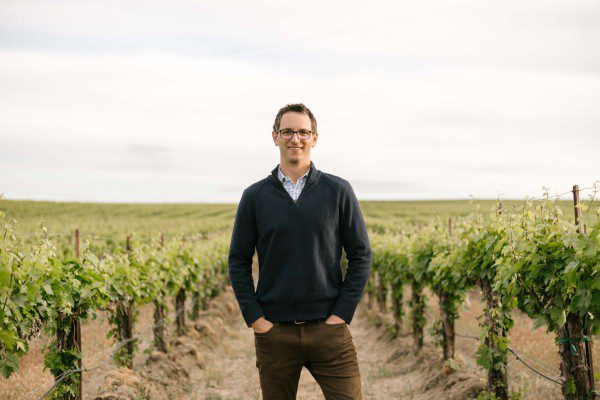 David Rosenthal spent over 20 years working at Chateau Ste. Michelle, Washington's largest winery, including seven as head white winemaker. Each year, Rosenthal made a staggering 3M cases of wine, more than almost all of the other wineries in Washington combined. This included everything from 50-case lots to wines produced in excess of 1M cases.
"That's a pretty broad skill set," Rosenthal says.
Now Rosenthal is starting the next chapter of his career, launching Partnership Wine Consulting. Rosenthal will offer everything from hands-on winemaking to vineyard management, laboratory design, and marketing assistance.
"I like being involved in every aspect of the wine business, whether it's thinking about label design or sales or the production side," Rosenthal says. "My goal is to partner with wine producers and grape growers to keep moving the needle."
Rosenthal grew up in Denver, Colorado and fell in love with the ocean at an early age. An interest in marine biology brought him to the Pacific Northwest to study at University of Puget Sound. Graduating with a degree in marine biology, biology, and chemistry in 2001, wine was very far from Rosenthal's mind, however.
"I had no intention of getting into the wine business whatsoever," he says.
Given Rosenthal's science background, a friend working at a tasting room in Napa Valley suggested he apply for a harvest position in the valley. Fate was kind. Someone backed out of a position at Robert Mondavi at the last minute, and Rosenthal stepped in. He drove to Napa Valley with his father, reading 'Winemaking For Dummies' on the way.
The first half of harvest, Rosenthal worked at Mondavi's laboratory in Carneros. The second half, he worked in the cellar at the winery's Oakville facility. Rosenthal's stint at the winery even included sharing wine with Robert Mondavi himself at his home.
"It was an incredible entrance into the industry," he says.
After harvest, Rosenthal was offered a full-time job at Mondavi but decided he wanted to be back in Seattle with his friends. Shortly after he returned to the region, Chateau Ste. Michelle offered him a job as a laboratory technician.
Rosenthal spent the next four years at Ste. Michelle before making a detour down under to Australia, drawn by the prospect of diving at the Great Barrier Reef. That year, 2006, he worked harvest at Zilzie Wines, a large winery in Mildura, Australia. In the fall, he returned to the U.S. and worked as a harvest laboratory intern at Willamette Valley's Domaine Serene.
"It was super cool to go from making massive volumes of wine in Australia all the way down to small, ultra-luxury winemaking," Rosenthal says.
When Ste. Michelle had a change on their white winemaking team, the winery contacted Rosenthal to see if he would be interested in coming back as an enologist. Rosenthal spent the next four years managing the winery's barrel program – which included overseeing a staggering 28,000 barrels. He was subsequently promoted to assistant winemaker, spending much of that time working under head white winemaker Wendy Stuckey.
"She was a huge mentor to me," Rosenthal says. "She was very precise in her winemaking, and that is definitely something that I took away from my time with her."
This was also a time of tremendous growth for Ste. Michelle in general and the company's white wine program in particular. In 2015, Rosenthal was promoted to head white winemaker.
"I was able to bring some of my own style to it, especially on the smaller production wines," Rosenthal says. "On the larger production wines, we made what I think are some of the best large volume wines out there."
Riesling is a big part of Ste. Michelle's white wine program. Chateau Ste. Michelle is the largest producer of Riesling in the world, and the winery's entry-level and top-tier offerings are some of the best in their class in the world. The winery also has a partnership with Germany's Dr. Loosen, called Eroica. A 2012 Eroica wine that Rosenthal assisted making received a 100-point score from Wine & Spirits magazine. Overall, more than 60 of Rosenthal's wines have earned scores of 90 points or above.
Last year, when Ste. Michelle announced that it would be moving white wine production from Woodinville to eastern Washington, Rosenthal was charged with shutting down the winemaking operation. Like others, Rosenthal was offered the opportunity to move to eastern Washington but preferred to stay on the west side and was subsequently laid off.
"It was a really good ride," Rosenthal says of his 20 years at the company. "We were making amazing wines. We were getting great recognition. Everybody was rowing in the same direction."
Now Rosenthal plans to leverage his experience for the next chapter in his career.
"The goal is to take all of that 20-plus years of knowledge working at big wineries and small wineries, reds and whites, and all of that vineyard expertise and try to help continue to raise the bar for Washington," says Rosenthal, who started working with clients last year.
Rosenthal brings a perspective to his new business very few winemakers in the state have. On the one hand, he has made millions of cases of wine and, at a reasonably young age, has received more accolades than most winemakers will in a lifetime. On the other, he's clear-eyed that Washington remains an emerging wine region, where it's imperative that every winery put its best foot forward. That's what he wants to help wineries do.
"At this point, every bottle of wine from Washington counts," Rosenthal says.
Image courtesy of David Rosenthal.