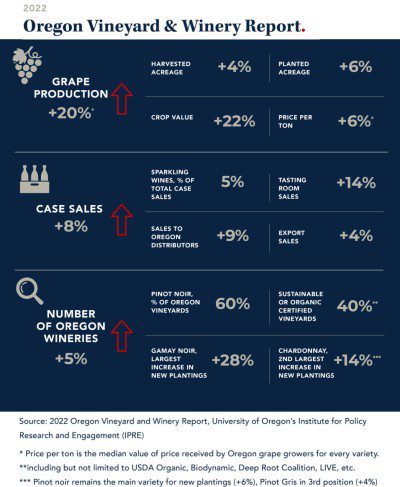 The Oregon Wine Board released the 2022 Oregon Vineyard and Winery Report last month. The annual study is conducted by the Institute for Policy Research and Engagement (IPRE) of the University of Oregon and looks at data from Willamette Valley and Oregon's other winegrowing regions. Here are five data points that stood out.
1. Oregon continues to add wineries at a quick clip.
Oregon is now home to 1,116 wineries, surpassing Washington to have the second most wineries of any state in the nation. (NB: Washington's 2022 number is 1,070.) Even more impressively, Oregon has been adding, on average, a winery per week in each of the last four years.
Drilling down into the data, in the last year, most of that growth has been in two areas. The first is Northern Willamette Valley, which added 35 new wineries. The second is Rogue Valley, which added 10. Looking more broadly, the number of wineries in Oregon has more than doubled in the last decade and shows no signs of slowing down.
2. Pinot Noir plantings in Oregon have increased 173% over the past decade.
It's no secret that Oregon, and specifically Willamette Valley, is known for its Pinot Noir. It's equally well-known that the variety has been ascendant in the U.S. over the last 20+ years.
The report numbers show just how strong Pinot Noir growth is in the state. In 2022, Oregon had 26,611 acres of Pinot Noir planted, a full 60% (!) of its total acreage. Plantings have increased by 173% over the last decade.
As one would expect, the lion's share of the Pinot Noir acreage is in Northern Willamette Valley. This area of the state is home to 69% of the state's Pinot plantings. Looking at Willamette Valley as a whole, it is home to 80% of Oregon's Pinot Noir acreage.
3. Chardonnay's rise in Willamette Valley continues.
Chardonnay is having a moment in Willamette Valley. Quality is high, the wines have a distinctive style, and consumers are embracing them.
Winegrowers are certainly taking notice. Chardonnay showed a 14% increase in plantings in 2022 compared to 2021. At present, there are 3,109 acres of Chardonnay planted in Oregon, a 268% increase from a decade ago. The lion's share (90%) of the state's Chardonnay plantings are in Willamette Valley.
Expect growth in Chardonnay to continue in the valley.
4. The data show Oregon wine's prominence in the marketplace.
There is no surer sign of the state's success than the majority of Oregon's wine being sold outside of the state. According to the report, fully 60% of Oregon wine is sold beyond the state's borders (3,438,871 cases out of 5,717,159 total). That's impressive.
Oregon also sells 19% of its wines direct-to-consumer. Both are signs of a well-diversified industry.
5. An astonishing 30% of harvested Oregon wine grapes appear to have been crushed outside of the state.
Perhaps the most surprising piece of information in the report is that 31% of Oregon's wine grapes appear to be crushed outside of the state's borders. That is…a very big number!
On the one hand, an increasing number of Washington wineries have been working with Willamette Valley fruit in recent years. On the other, surely Oregon's shared border with California leads to the lion's share of this fruit heading there.
Still, 31% is an astonishing number. It shows just how popular brand Oregon and, more specifically, Willamette Valley are right now.
NOTE: Northwest Wine Report is now partially subscription-based. Please subscribe to support independent content and reviews on this site. It's the only way that this site can continue.
To receive articles via email, click here.