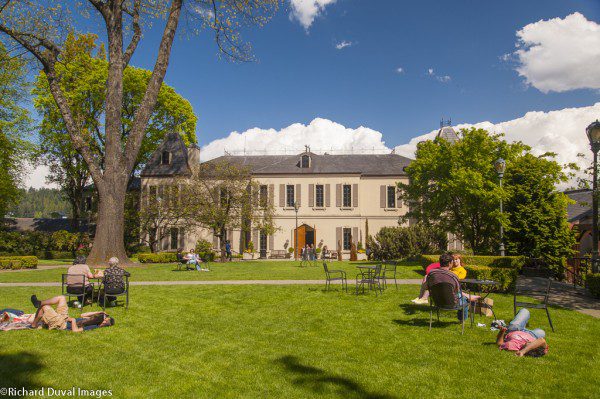 Yesterday Ste. Michelle Wine Estates (SMWE) and Italian producer Marchesi Antinori announced that the latter purchased full ownership of Napa Valley's Stag's Leap Wine Cellars. For the last 16 years, the two producers co-owned the winery. Terms of the sale were not announced.
"It's been a discussion that we've been having with the Antinoris for some time," says Ryan Pennington, vice president of communications and corporate affairs at SMWE. "We're thrilled to see them carrying the winery's legacy forward into the future."
SMWE and Antinori have a long history of doing business together. The two companies partnered to create the Washington brand Col Solare in 1995. In 2007, Col Solare opened a 7,500 case per year winery on Red Mountain, complete with a 29-acre surrounding vineyard. That same year, SMWE and Antinori purchased Stag's Leap Wine Cellars from founder Warren Winiarski in an 85%/15% split. SMWE also imports Antinori's Italian and Chilean brands and sells Antinori's Antica Napa Valley wines.
Pennington says no changes are planned at present for the Col Solare partnership. For SMWE, however, the Stag's Leap sale represents a shifting of the company's efforts.
"We are all-in on the Pacific Northwest, and we believe very passionately in the great potential of this region," says Pennington. "[The sale] is about focusing resources, both human and financial, on the part of our business that we think has the greatest potential for growth, and that's the Northwest."
A significant change in strategy
This shift will likely have major implications for the some of the winery's other brands. SMWE still owns Sonoma's Patz & Hall and Napa Valley's Conn Creek. The company also has other international partnerships where SMWE serves as importer.
Some of those relationships might change. Others might not.
"To the extent that they represent a productive and profitable area of business for us that helps us fuel the growth of our core business, there's no reason we can't continue [the relationship]," Pennington says. "Where things in the business are identified as not contributing to achieving our core mission of growing the Northwest, we have to take a really hard look at it."
SMWE's core brands have always been from Washington or Oregon. (SMWE's first purchase in Oregon was Willamette Valley's Erath in 2006.) However, a series of acquisitions and partnerships over the decades have significantly broadened the company's national and international footprint.
Former president and CEO Ted Baseler, who ran the company for 17 years before retiring in 2018, often referred to SMWE's wineries as a "string of pearls." With the sale of Stag's Leap, that strand has been broken.
That speaks to changes at SMWE. However, it also speaks to tectonic changes in the U.S. wine industry over the last five years.
"The market is very different now," Pennington says. "When Ted was building the 'string of pearls,' the wine category overall – and even the wine category in the Northwest – was growing tremendously. When you look at today, where the wine category is flat to declining and our core categories of Washington and Oregon are underperforming as well, it really sharpens the need to focus on our core business."
Market realities and internal changes
The issues SMWE has been facing are by no means exclusive to the company. All large wine companies are grappling with changes in demographics and what wine drinkers are buying.
"Wine in general has not done a very good job of making itself relevant to new consumers," notes Pennington.
SMWE and other large wine companies have also been adversely impacted by wine buyers focusing on higher-priced categories, referred to as premiumization. While SMWE has higher-priced wines in its portfolio, much of its business has traditionally been dedicated to lower tiers. Those categories have taken a beating with consumers.
"I would say we were over-indexing in price segments that are not where consumers are shopping today," says Pennington. "We're trying to move more into those premium products that people are looking for, which honestly is what Washington does best."
SMWE has also been undergoing a number of other changes of late. In 2021, the winery was purchased by the New York-based private equity firm Sycamore Partners for $1.3B. In the fall of 2022, CEO David Dearie resigned after two years at SMWE, which subsequently announced a realignment of the company into three commercial divisions – one each for Washington, Oregon, and California.
In February of this year, chief winemaker Juan Muñoz-Oca left the company to take a position at California's O'Neill Vintners and Distillers. That same month, SMWE announced a 5% workforce reduction. This included some key players, such as Spring Valley winemaker Serge Laville, who had worked for the company for over 20 years. In March, Shawn Conway was named CEO.
Updates on the Woodinville property and other SMWE news
In 2022, SMWE listed its 188-acre Woodinville property – which has been home to the company since 1976 – for sale in whole or in part. Some of the rationale for doing so was that the company moved its white wine production, which took up considerable space in Woodinville, to eastern Washington. Subsequently, most of SMWE's western Washington white winemaking team was laid off, including head white winemaker David Rosenthal.
Whatever ultimately happens with the property, SMWE has previously committed to keeping a strong Woodinville presence. Pennington took it a step further.
"We're not going anywhere," he says. "We're looking at every opportunity we can to actually improve our presence on the current site and have a more impressive experience there. We're looking at every potential means to get us to that end."
SMWE's refocusing on the Pacific Northwest was also evident by the company purchasing Willamette Valley's A to Z Wineworks and Rex Hill in 2022. The acquisition made SMWE the largest winery in both Washington and Oregon.
In addition to these changes, SMWE has been working to update its existing Pacific Northwest brands. Brand labels have been refreshed. Some of the wide-release Columbia Crest red wines are, for the first time, under screwcap, something that would have been anathema at the company as recently as five years ago.
"We're very open-minded about how we can make these brands more accessible and more relevant for modern consumers," Pennington says.
SMWE also recently announced a partnership with the California-based entertainment giant Live Nation to become its first national wine sponsor. The move guarantees SMWE access to millions of concert-goers throughout the country.
"It's the biggest sponsorship that we've ever done in the history of the company," says Pennington. "It's a very big bet, but we're really excited about the exposure that it's giving Chateau Ste. Michelle."
Overall, the Stag's Leap sale and other changes are evidence that the evolution of SMWE is still in progress. While the sale might feed into the fear that Sycamore will chop SMWE up and sell it for parts, Pennington stays it's truly a redoubling of the company's efforts at building the brand of Northwest wine.
"We believe very strongly that the area of greatest potential return in our business is our Pacific Northwest portfolio," Pennington says. "Sycamore is 100% aligned with that, and they're ready to do whatever it takes to realize the potential of that investment."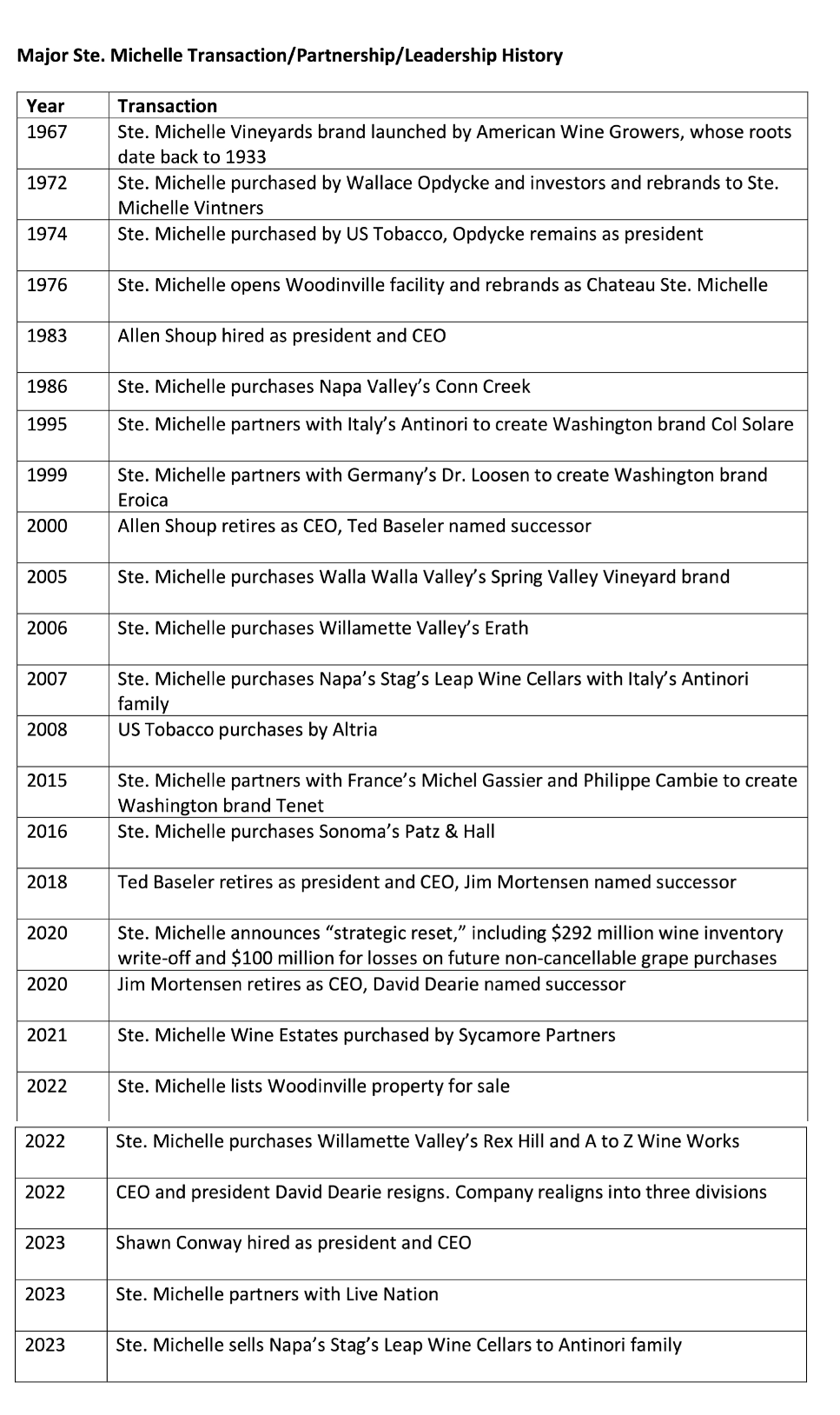 Click here to receive articles via email
This article has been updated to fix a typo.