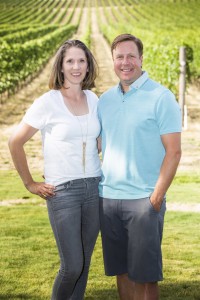 Walla Walla Vintners was founded in 1995 – 28 years ago – by Myles Anderson and Gordy Venneri, two long-time home winemakers. (Read an article about the winery from 2010.) As hard as it is to imagine now in a valley of 130 wineries and tasting rooms, Vintners, as it is called by many locally, was the eighth winery in Walla Walla Valley.
In 2017, Anderson and Venneri retired and sold the winery to Scott and Nici Haladay. Scott spent 10 years at Portland-based Insight Distribution Software, in positions ranging from account manager to implementation manager. He then spent another 6 years at Viewpoint Construction Software, ultimately working as managing director. Looking for a place to raise their children, the Haladays purchased the winery and moved to Walla Walla.
"My wife and I landed in a community that's great for both of us as well as our kids," says Scott Haladay. "We love it here."
While Nici works as a nurse, Scott focuses full-time on the winery. Over the last six years since the couple purchased Vintners, many things have stayed the same, but there have been changes as well.
"There's a lot of the same DNA from Walla Walla Vintners in the past," Haladay says. "Gordy and Myles set a good foundation, and they gave us a lot of choices as far as the direction to take the portfolio over time."
Among the changes was updating the winery's labels and also narrowing the lineup. When the Haladays purchased Vintners, the winery had 30 offerings, with Anderson and Venneri enjoying the time-honored tradition of tinkering. Working with winemaker Derrek Vipond, who joined the team in 2019, Haladay reduced that to about 12 wines per vintage, focusing on the winery's core offerings.
"The key pieces of the winery remain Sangiovese and Cabernet Franc," Haladay says. "We make four different Sangiovese-based wines. It's crazy. Nobody else can get away with that."
Some new wines have been added as well. This includes a Sauvignon Blanc and a Cabernet Franc rosé.
Vintners has also added to its estate properties. Cut Bank Vineyard, which surrounds the winery, was planted in 2008 and includes 12 acres of grape vines. Vintners recently purchased 18 acres in Walla Walla Valley's Rocks District. Haladay says his rationale for purchasing the land was two-fold: the value of commercial real estate over the long-term and locking up fruit sources for key wines.
"You have to have key pieces under your ownership, otherwise it can go away at any time," he says. In fact, Vintners previously sourced fruit from a vineyard in the Rocks District that was subsequently sold.
Vintners' new Rocks District property is divided into four quadrants. The winery plans to plant two acres of Cabernet Franc in 2024 along with two acres of Syrah, then decide what to plant next. As with anything in the wine industry, the new vineyard is a long-term project.
"I joke with people that I look forward to sharing wines off this property with our guests maybe in 2029," Haladay says.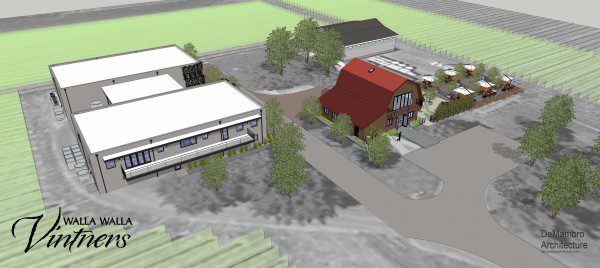 Vintners is also constructing new winery buildings. Since the Haladays purchased the winery, production has increased from 6,600 cases annually to close to 15,000.
"Our facilities were pretty inadequate for that," Haladay says, noting that they winery had to rent multiple off-site spaces.
The two new buildings will be approximately 9,000 square feet. The eastern building will be used for production, the western one for barrel storage. The eastern façade will be for offices. The winery will also eventually renovate its tasting room spaces.
The construction work currently going on at Vintners is part of a buzz of activity in the upper Mill Creek area of the valley. Bledsoe-McDaniels is renovating the former àMaurice facility next door, after purchasing the winery building and vineyard in 2022. Figgins is currently constructing a winery and tasting room in the area. Echolands is also building a winery in Upper Mill Creek.
"This is probably what gets me the most excited is to have friends and neighbors," Haladay says. "It will also become more of a destination, where guests can come out and visit four properties in a half day or day."
While much has changed over the last six years at Vintners, much has stayed the same. Wine quality is high. (Read recent reviews here.) The style Vintners has long been known for remains largely unchanged.
Leaving the software world and moving to Walla Walla has also been a change for Haladay, but it's one he embraces. So is carrying on the Walla Walla Vintners tradition.
"It's been great," he says. "I couldn't ask for the opportunity to have more fun.
Images courtesy of Walla Walla Vintners.
A previous version of this article stated that the western building would be used for production and the eastern building for barrel storage. It is the reverse. This has been corrected.